News & Updates
The latest from Fantasy GP HQ
---
Play Fantasy GP – The Quick and Easy Guide
Why you need to play, how to play and hey check out the amazing prizes!
Date published: 1st March 2019
If you're new to Fantasy Grand Prix, you may be wondering what it's all about. It's simple, lots of fun to play and makes being an F1 fan even more enjoyable.
How to Play Fantasy GP
Create an account with FantasyGP.com (using your social media or Google account is just 1 click – easy!)
Decide on a team name (you can change it later!)
Create your team of cars and drivers within budget
Make your predictions for the podium, pole, fastest lap, safety cars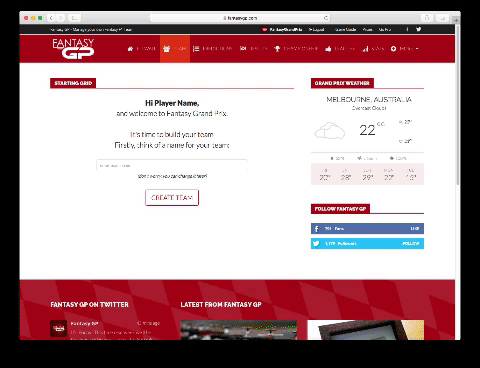 It really is that simple! You're automatically entered into the Fantasy GP World Championship, playing against thousands of fans from across the world.
You can also create your own League to play against friends, work colleagues and family.
If you want to read all the rules and more, see the complete Fantasy GP Game Guide here.
Why Play Fantasy GP?
Ok, so this all looks very easy, but the tricky bit is winning! And this is where it gets interesting. Let's face it, not every lap of every race is that exciting when watching a Grand Prix, but Fantasy GP changes that.
Suddenly you'll care if that terrible pay-driver has progress from 20th to 17th, because he's in your team. Sainz pulls a great pass on Hulkenberg – damn, you have the Hulk in your team. Sauber score points in the top 10 – yes that's right – it's exciting because Sauber are in your team and wow – this is the most exciting race ever.
The scenario above is what we hear time and time again from our passionate fans – they love Fantasy GP because it makes our favourite sport even more fun. Get involved with Grands Prix, from your sofa, with Fantasy GP.
Win Awesome Prizes
Even better – you can go PRO and enter the PRO Championship where you can win prizes including Grand Prix tickets, limited edition art work and loads more.
Every PRO race winner wins a prize. And you also get loads of perks in return including an advert-free faster game, extra team changes, access to stats and interactive charts and data, and more – see the full details of PRO here.