Fantasy GP Prizes
Go PRO and win big with Fantasy GP
Fantasy GP is here to make your favourite sport more fun, right from your sofa. There are great prizes up for grabs for every race including special feature race prizes.
To be in with chance of winning prizes, become a PRO or Elite player, find out more here.
Fantasy GP Trophy
Every PRO/PRO Elite Player who wins a Grand Prix in the PRO Championship will receive a Fantasy Grand Prix Trophy. Each trophy is engraved with the race name and date, to treasure and brag to friends!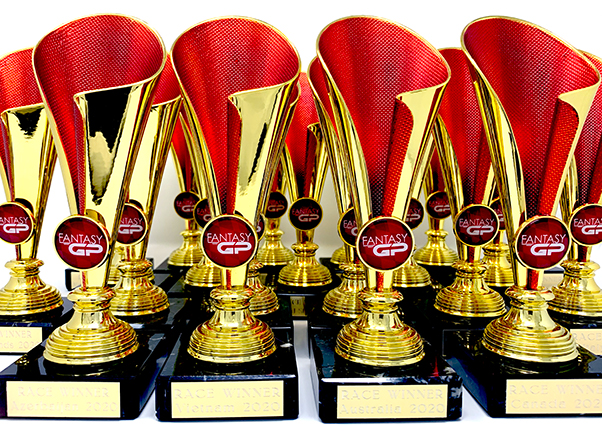 PRO Champion & Runners Up
The overall 2020 Fantasy GP PRO Champion will receive a trophy, complimentary 2021 PRO Elite, a BoxBoxBoxCo goodie bag and best of all – a Paul Oz canvas of their choice – yes, that's right – you get your hands on a Paul Oz embellished print!
PRO Championship Runners up (2nd and 3rd) will also receive gift set from BoxBoxBoxCo.
---
Non-PRO Champion & Runners Up
The overall highest placed non-PRO player in the World Championship will complimentary PRO Elite access for 2021. 2nd and 3rd will also get PRO access for 2021. There are no individual race prizes for Rookie or Rookie Plus players.
---
Featured Race Prizes
Throughout the season, races will feature additional prizes, note that only PRO and PRO Elite Players can win prizes. These prizes are in addition to the Fantasy GP Trophy!
Austria – Framed Race Track via Graham & Leigh

WINNER – Gillian Addison (Alphadogs)

Styria – Framed Race Track via Graham & Leigh

WINNER – Ben Y (Tangotize)

Hungary – Diecast Race Models Driver Helmet

WINNER – Craig B (Captain Spirit)

Great Britain – Heel Tread Veneno socks

WINNER – Catherine (Lights Out)

Anniversary – Jewellery via Alyssa Smith

WINNER – Kirby Walls (Luftgekuhlt Texas)

Spain – Rear View Prints Poster Print

WINNER – James Smith (F1ip F1ops)

Belgium – Framed Race Track via Graham & Leigh

WINNER – Jonny Popper (Don Don Racing)

Italy – Heel Tread Veneno socks

WINNER – Paul Wishart (F1 Paul)

Tuscany / Ferrari 1000 – Heel Tread Veneno socks

WINNER – Travis (Powell Racing)

Russia – Heel Tread Veneno socks

WINNER – Mark Rogers (DAS ist good Yarr)

Eifel – Heel Tread Socks

WINNER – Dom Keel (Stratton Oakmont Racing)

Portugal – BoxBoxBoxCo goodie bag

WINNER – Julio Cabrera (La Mangulina)

Emilia Romagna – BoxBoxBoxCo Champion Coasters

WINNER – Chris Hulse (Badgerous073)

Turkey – Heel Tread Veneno socks

WINNER – Naomi Nom White (Dragon Plant)

Bahrain – BoxBoxBoxCo goodie bag
Sakhir – BoxBoxBoxCo goodie bag
Abu Dhabi – Heel Tread Veneno socks