Fantasy GP Prizes
Go PRO and win big with Fantasy GP
Fantasy GP is here to make your favourite sport more fun, right from your sofa. There are great prizes up for grabs for every race including special feature race prizes.
To be in with chance of winning prizes, become a PRO or Elite player, find out more here.
Fantasy GP Trophy
Every PRO/PRO Elite Player who wins a Grand Prix in the PRO Championship will receive a Fantasy Grand Prix Trophy. Each trophy is engraved with the race name and date, to treasure and brag to friends! The image below shows our 2020 trophies, the 2021 edition is yet to be revealed.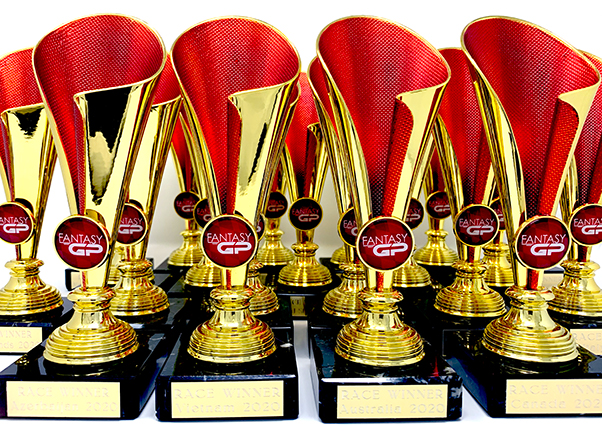 PRO Champion & Runners Up
The overall 2021 Fantasy GP PRO Champion will receive a trophy, complimentary 2022 PRO Elite, a BoxBoxBoxCo goodie bag and something else very special – TBC
PRO Championship Runners up (2nd and 3rd) will also receive gift set from BoxBoxBoxCo.
---
Non-PRO Champion & Runners Up
The overall highest placed non-PRO player in the World Championship will complimentary PRO Elite access for 2022. 2nd and 3rd will also get PRO access for 2022. There are no individual race prizes for Rookie or Rookie Plus players.
---
Featured Race Prizes
Throughout the season, races will feature additional prizes, note that only PRO and PRO Elite Players can win prizes. These prizes are in addition to the Fantasy GP Trophy!
2021 Race Prizes TBC