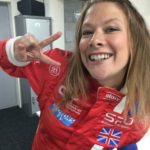 Jennie Gow
Team: GowsGrid
Total Points: 2152
Last Race: 120
BBC F1 and ESPN F1 journalist and Badger Motorsport ambassador. Follow her on Twitter @JennieGow.
Fake Charlie Whiting
Team: Fake Charlie Whiting
Total Points: 1483
Last Race: 79
The real Fake Charlie Whiting. He's in charge of THAT button. Follow him on Twitter @charlie_whiting.
Simon Lazenby
Team: Pastors Pirates
Total Points: 1400
Last Race: 60
The Sky F1 anchor and journalist. Follow him on Twitter @SimonLazenbySky.
Callum Illot
Team: Full Throttle
Total Points: 1600
Last Race: 87
The British European F3 driver destined for great things. Follow him on Twitter @Callum_Ilot.
Graham & Leigh
Team: GrahamandLeigh
Total Points: 1834
Last Race: 90
Handcrafted race tracks, sponsors of the PRO Championship. Follow on Twitter @grahamandleigh.