Four long weeks later, Formula 1 is back after its summer siesta as the action moves to the historic Spa circuit in Belgium. Vettel remains the leader in the title race as Hamilton and Mercedes left Hungary with more questions than answers yet again and the British driver might be once again left to rue consistency, as well as perhaps his own generosity, if he fails to add another world title to his haul.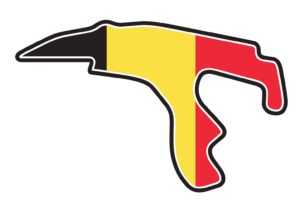 Team Changes
Now that w're officially starting the second half of the season, it's a good a time as any to look at your strategy and the drivers in your team. See a list of the top drivers in 2017, ordered by their 'value' – i.e. points per million to see which really are delivering bang for buck in 2017 so far. Interesting reading!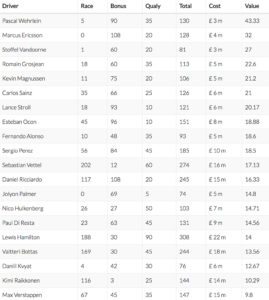 Last Year
Hamilton will be desperate to avoid a repeat of last year's Spa outing when enforced penalties left him at the back of the grid. Despite a great recovery drive to finish third, he saw valuable championship points disappear to another German rival. However, Vettel will need to stay out of trouble himself to take full advantage again, after a concertina collusion involving Raikkonen and Verstappen causing issues in 2016. The latter driver will be very keen to avoid yet another DNF this weekend whilst his teammate Ricciardo will be delighted if he can repeat his second place this team out.
Weather
At the time of writing, weather could be a significant factor in Sunday's race as Belgium once again proves an unreliable location, with sun, could and rain all predicted around Sunday's scheduled race time. I'd strongly recommend keeping a keen eye on this forecast going into the weekend and, if rain is still predicted and you need to kickstart the second-half of your fantasy campaign, then mix-up your predictions to factor those drivers that my take the best advantage of changing conditions.
Safety Cars
Magnussen's huge 180mph crash at Raidillon last time out ensured that the safety car was a prominent feature in the 2016 race. On a high speed circuit with unpredictable weather conditions, it might be a better question to ask yourself just how many safety cars rather than whether there will be any appearance at all from the other silver Mercedes.